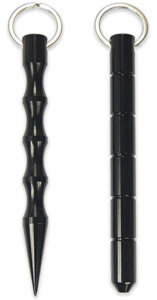 One of my favorite weapons is the kubotan.  I prefer the ones made with metal alloy because they hold up well, are strong and reliable, and will not break when you use them.
The kubotan is a handy weapon that can be carried as a keychain.  Much more effective than using your keys, and you will always have it with you when you need it.
The techniques for using a kubotan can be used as effectively with pens, toothbrushes, the handle on eating utensils, sticks – anything that is handy will work just as effectively.  Tactical pens are used in the same way.
The thing about carrying a weapon is it is never there when you need it.  You have to reach for a gun or open your knife, but when you attach your keys to your kubotan, you have it in your hand, ready to go.
Continue reading "How to Use a Kubotan" →