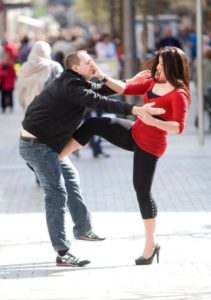 Why learn self-defense? 
What is the value of knowing how to defend yourself?  Women are at a greater daily risk for assault than men.  How many precautions do you take during the day to assure your safety?
Do you carry your keys ready to strike, check your backseat before getting into the car, park in a lighted area, never go out alone after dark?  Here are four things most women do every day as second nature.  Do men take these kinds of precautions?
It is a brave woman who will come forth and talk about a rape to a room full of men who have no clue what she is feeling. A room full of men who have had their own sexual exploits have taken advantage of their fair share of women.
A man has his fun, his fling, and forgets about the woman he's hurt. She is the one that carries the memory.
Rape violates our very essence, the core of our existence. Continue reading "Why Learn Self-Defense" →