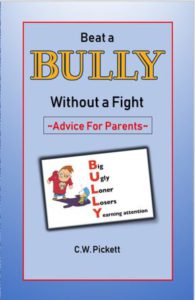 We all have run into a bully at some point in our lives.  Whether a child or an adult, a bully will harass and invade your space when you least expect them to.  Just when you think you are safe where they won't bother you, here they come.  It seems the bully is everywhere!  And if he isn't in your presence, you carry him around in your thoughts.
The most common advice people like to give someone who is bullied is to "ignore them." Well, you are ignoring them. You take a different route to school, you change your routines and perhaps change your classes to "ignore" this person that won't leave you alone.
This advice of ignoring is given without forethought or consideration of the situation. Unless it is happening to them, people do not stop to consider what they would do if they were bullied. – Or stalked. Stalking is the adult form of bullying.
For the purposes of this blog, we will keep to the subject of bullying, but bear in mind that the bully graduates from high school, and goes on to be the bully at work and at home. Also, for the purposes of this blog, I will use "he" as the pronoun to describe a bully, but also bear in mind that girls and women are terribly mean and use words, rather than actions, to cut deep. Continue reading "Beat a Bully Without a Fight" →